Camping Gear
Tent: Big Agnes – Fly Creek UL2.  Lightweight, durable, spacious (enough particularly for one person), and I got in on sale.  I had 4 or 5 2P tents in mind when I started searching, and this one was the cheapest for me, so I got it.   It's a beautiful tent with great reviews.  I have also made a groundcloth out of Dupont "Homewrap" (Tyvek) to protect the bottom of the tent.
Sleeping Bag:  Marmot Helium 15F – 850+ fill down sleeping bag. This is a very nice ultra-light down bag that will take you down to 15F comfortably. The extreme (non-death) rating is -25F. One bag to use in all four seasons will never be ideal. There will be many times I am sweating laying on top of this bag, and there will also be times where I wish I had a 0 F bag. To me a 15 is an ideal medium that will keep you safe/alive in almost any weather (If it's going to be too crazy, don't even attempt it without the proper gear), and will also last you through all four seasons. I'm very happy and excited to use this bag, the only negative is that it does not have a separate neck baffle cinch. The head cinch has a dual function as active draft protection. We'll see how it holds up when we get down to the extreme temperatures, but I have read that it performs quite well. I also got this bag on sale, it is a rather expensive bag otherwise.


Sleeping Pad:  I've been through 5 or so inflatable mattress pads in the last 10 years.  No more.  This is the Thermarest Z-Lite pad (gift from little sister- thanks!).  While the R-value (the protection the pad provides from the cold ground) is not nearly as high as for some of the inflatable pads; it is adequate.  Similarly, while it isn't nearly as comfortable as some of the inflatable pads… it's adequate.  This pad will also double as a yoga mat and a camp chair.  For $35 you can't beat it.  It is extremely light, and it will hold up indefinitely.  It's becoming the goto pad for many ultralight backpackers, and all of my friends who use them, love them.
Stove:  MSR Whisperlite International with 30 oz fuel bottle. This stove burns white gas, kerosine, jet fuel, and gasoline.  Travelling through different countries and different area, you run into lack of ideal fuels.  The Whisperlite International allows you to burn what's available. The 30 oz bottle is a massive container, but I plan on doing several multi-week treks into the backwoods.  I won't normally fill it all of the way up, but when I need it, I have it.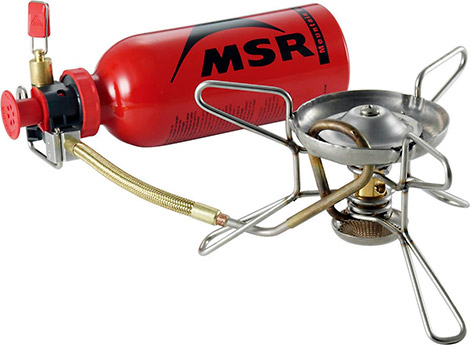 Water Pump: This pump was purchased in '08, and it still works great.  It has been as solid as a rock. While I've seen friends pumps come and go over the years, the MSR miniworks pump is tried and true.  She isn't very fast, but she is consistent and holds up to abuse, to me, this is much more important than cranking out the liters quickly.  The miniworks claims 1L/min, which I can do if I really work.  Field maintenance on this thing is very easy with no tools needed.
I also have backup purifying tabs that I will use in emergency situations or if the water is really bad I will double up.
Water Containers: 2 Nalgenes, 1 3L Camelback water bladder, 3 "sport bottles" for bottle holders on frame.  This may be a bit overkill, but I want to be able to carry 7-8 liters when needed.
Backpack: I'm hoping to do quite a bit of backpacking in between touring. The Osprey Atmos 65 will act as a large storage while touring (sitting across the top of the two rear panniers and bungied down), and it will also be my backpack when going on 1-2 week long treks into the mountain.

Clothing
Socks:
(2) Pairs Pearl Izumi cycling socks
(2) Smart wool backpacking socks
Shoes:
Teva flat bottom cycling shoes
Asolo boots
Sandals will be purchased when I get south
Rain Gear:
Louis Garneau booties to protect shoes when it rains
Marmot Oracle Rain jacket
Sugoi rain Pants
Underlayers:
Underarmour coldgear compression (Nylon and polyster) tops and bottoms
Cotton/nylon long johns, tops and bottoms
Tank top
Shirts:
Cycle jersey
100% polyester sports shirt
loose long sleeve 100% polyester
Bottoms:
Columbia zip backpacking Pants
Casual Shorts
Swim Trunks
(2) Cycling shorts
Jacket:
Polyster/Down/Nylon North Face
Underwear:
3 pair of multi-day underwear


Gloves:
Pearl Izumi Attack XL cycling glove
Borealis cold weather lobster claw cycling glove
Etc.
Ropes: 100ft lightweight nylon chord for tying up tarps, replacing tent guy lines, hanging up food bags, etc.
Waterproof Bags: 4 waterproof dry sacks will be used for organizing items as well as protecting them.
Flashlight: Petzl headlamp and a tiny LED flashlight for backup.
Camp shovel: Used to dig latrines and then to cover waste.
Chess Set: Chess is a universal language; I want to continue to learn the game and play with people all over South America.  I removed all of the weights from one of my chess sets.  The roll up board weighs 2 ounces and the pieces way about 6 ounces.
Compass: When you get lost in the woods, nothing works like a compass to get you pointed in the right direction.
Sun Glasses: I fond some nice polarized Tifosi glasses at a garage sale for $5. They wrap around the face well to protect your eyes from harsh cross winds and accompanying debris.
Insect Repellent: Medical Ben's 30% Deet Spray (clothes and body) and Repel Lemon Eucalyptus for face and neck.
Frisbee: Glow in the dark frisbee!! Oh Ya!
First Aid Kit: Ultralight adventure medical kit .5.  3 weeks supply of Cipro.