The Bike and Accessories



The Surly – Long Haul Trucker (LHT)

Thoughts on the Trucker: 
What is thre to say about the Long Haul Trucker that hasn't already been said or proven over and over again? I can't speak from personal experience as I just finished building my Surly as of 2/15/2014 and my tour hasn't begun (3/4/2014)… BUT from a few rides around the block and extensive research, I can say that the LHT is widely considered the best bang for your buck in touring. It's strong, the geometry is perfect (the ergonomics are ideal for the heavy tour), the handling is great under a load, and it is tough as a rock. I have spoken to five riders recently who are currently touring, or considering touring in South America, and the ALL have LHTs. You're not going to win any awards for originality, but you are going to have a bike that WORKS and was made for touring.
What's most important is that you buy a bike that works for you. It just got to feel right. The LHT is likely a great option, at a reasonable price (~$1200 Deore LX – Cost is relative I know :/ ).

Other Bike Options:
Other options in a similar class include the classic Trek 520 (Deore/Deore LX ~$1430), REI's entry – the Novarra Safari (Deore ~$900), the Fuji Touring (Tektro/Deore ~$900), and the Jamis Aurora (SRAM 950/Tiagra/Tektro ~$1000).
There are also many more expensive options. Koga Randonneur (~$2600), Koga WorldTraveller (~$3000), Thorn Raven (~$3000).
The cheapest option by far is to buy a mountain bike from the late 80s or early 90s and convert it to a touring bike. If you want to go that route, look here for suggestions of specific frames and builds:
http://www.bikeforums.net/archive/index.php/t-515543.html
http://www.bikeforums.net/showthread.php/863950-List-of-ideal-mountain-bike-frames-for-touring
The mountain bike route was the first avenue I went down. I bought all the necessary components building up a 1973 Jamis Dakota into a touring bike. At the end of the day it weighed in at 41 pounds, the geometry just wasn't quite right, and many of the parts were non-standard (seat post, head tube, headset, rear spacing) which would have made finding parts difficult in South America. My lovely mother offered to buy me the LHT frame as a graduation gift (I'm sure my incessant muttering about international standards and millimeter shims had nothing to do with it), and I gladly accepted. Some of the most expensive components for the original mountain bike build were moved over with no problems to the LHT.
All prices are in USD and approximate for early 2014.
Here is a more in depth analysis of many of these bike options:
http://www.bicycle-touring-guide.com/touring-bicycle/



Building your own bike and my build

Specs of my LHT:
The following are the four options you will have to decide on when picking out your frame.
Frame size– 60cm – I am 6'1″ with my shoes off with a pubic bone height of 90cm (see http://velo-orange.blogspot.com/2010/09/frame-fit.html for measuring PBH) and the 60cm is a tight fit for me, but I like it just fine. I have about 4 cms between my pubic bone and the top bar. Tom Young from the Surly Long Haul Trucker and Crosscheck Google user group put together a spreadsheet that compiles height and pubic bone height of 100+ riders along with the corresponding Long Haul Trucker frame size that ended up fitting them. I went by this chart and ended up very happy. You can also go get properly fitted at your local bike shop, but often they'll charge you for this service.
Frame type– Rim brake – You will have an option of rim brakes or disc brakes; either option is built directly into the frame. It's one or the other. Disc brakes give you more stopping power and are more modern, but in my estimation there are more parts to break and the parts are harder to come by. I went with the tried and true rim brake setup. The bosses can handle V-brakes or cantilevers; I have cantilevers on mine. Brakes must match the levers on your handlebars; cantis require long pull while V-brakes require short pull.
Wheel size– 26″ – The great debate. 26″ vs 700C.. I probably spent 3 complete days of my life obsessing over this. What it all boiled down to for me was, can I get the parts I need where I'm going. In South America, 700C wheels, spokes, and tires are hard to come by (as well as in many other developing areas). When the shit hits the fan, and you need to rebuild a wheel or get a new wheel entirely, 26″ wheels will be most accessible. In my mind, there is no debate, if you are going to remote areas, or pretty much anywhere outside of Europe/Canada/USA, get 26″ wheels. Sure many people have toured the world on 700Cs, but I bet they each have a story about the time they had to run in circles and waste lots of time trying to find the parts they needed. As far as efficiency, down hill speed, climbing speed, blah blah, the 700's may be slighty slightly superior.. but that's cool with me. One more positive of the 26″wheels is that they are stronger. More spokes per unit area = more strength. If you want to go down the rabbit hole and explore these options, have fun, I did.
Color – Silver Smog – Whatevs 😀 .. okay, okay I spent too much time making this decision too, but this is self explanatory.


Self Built:
Another option to possibly save a bit of money (possibly not) is to build a bike yourself. Buy the frame, then buy the components, and mash em all together.  I paid $420 for my frame, leaving ~$800 for the rest of the components if I wanted to stay under the stock price.  
Pros– Everything is customizable, from wheel type to the seat to gear ratios to handlebar type. May be a bit cheaper if you're smart about where you buy things (local co-ops and Ebay). My experience going into this build included having built eight or so bikes from the ground up and working as a bike mechanic for a few months.
Cons– It is good to know a thing or two about bikes to know what you are looking for and how to put things together. Sometimes things just don't work out like you expect. I had to go through multiple derailleurs and multiple gear shifters to find proper combinations and fits. It may end up costing even more than a stock bike would have cost you, because it's fun to up buy (Dang these XTRs are only $20 more than the LXs, I'm going for it, this adds up).  Also don't forget that the Surly folks are very, very good at what they do, and they chose the specific components for good reason.
Happy Medium? – Another possibility is to buy a stock bike and change the few things that are really important to you (you can sell the original parts on Ebay).
Disclaimer. The following sections contain my interpretation of components based on my reading, understanding, and personal experience.  Also, this is not meant to be a comprehensive discussion; I only get to the basis of why I made the choice I did.  I do not pretend to be an authority or expert on any of these topics.  Feel free to leave opposing views in the comments section.
Wheels/Rims:
Wheel considerations include rim brand and type, wheel size, number of spokes, hubs, brand and type of spokes, and valve type.  Wheel building is an ART, do not attempt to build your wheels on your own unless you know exactly what you are doing and have the proper tools.  My wheels were built by Ceasar at Bicyclewheels.com; he offered the best price and consistent communication. People seem to respect his work.  His wheels are put together by machines, and finished by hand, a fine compromise for putting out quality and quantity.  I paid $200/wheel.
Rim type: The Sun Rhyno Lite 36 Schrader provides a well reviewed (they hold up over the long term), double walled (incredible strength and protection from spoke nipples puncturing your tubes), and relatively inexpensive option (25%-50% cheaper than the Mavic counterpart) wheel.  Be sure whether you are buying a rim brake rim (machined side wall for proper brake service) or a disc brake rim.rily as a result of the way hubs are spaced – this is a detailed topic that should be researched separately if you are interested).  For a detailed discussion on all things wheel building or ANYTHING about bikes really, the late Sheldon Brown's website is a wonderful resource.elset (2/2013) which included 5 extra spokes of each length (3 different length spokes are needed for this build, prima
Wheel size:  We already looked into this in detail in the wheels size subheading of "Specs of my LHT".  I chose 26″ wheels/rims.
Number of spokes:  More spokes/ unit area is equal to less load on each spoke.  The two most common numbers of spokes are 32 and 36; I chose 36 spokes without hesitation. This spoke number needs to be matched for the actual rim and the hub spoke count. I have read many times that once spokes start breaking on a loaded wheel set, it is hard to get them to stop breaking.  Everything rides on your wheels, literally and figuratively,  you'll likely never notice having strong wheels; however, you'll waste lots of time and have lots of headaches if your wheels can't hold up to the beating.  MAKE EM STROONGG!!
Hub type:  My hubs are 36 H Deore LX hubs, specifically the LX-T670, a touring specific version of the LX that has no disc mount (you can build a rim brake setup on a normal LX hub that has the disc setup) along for a slightly different spoke setup adding strength. The LX hubs use a non-sealed bearing setup making field maintenance a possibility (with the proper wrenches).  LXs come standard on the LHT.  It has been suggested the XT hubs are having some issues holding up on extended tours.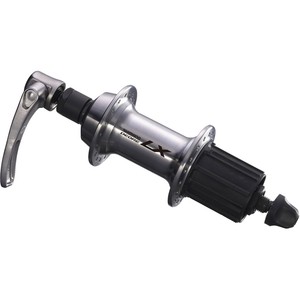 From administrator Danneaux at Thorn Cycles Forum:

"I'm still pleased with the service offered by plain ol' Deore, but if the cost difference is negligible, I'd surely try LX and get the higher-finish cones in the bargain. I would still tend to avoid XT (even at a similar price) because of reported concerns over bearing life under heavier loads and while touring. On the other hand, I have the strong impression the greater incidence of such problems occur at the (more heavily loaded and stressed) rear hub and not the front. Keep in mind I have not tried recent XT and am going by reports gathered in various fora among loaded world tourists. It might well be with more regular maintenance and normal touring loads, the hubs could do well. Certainly, XT seems to work well in MTB usage where maintenance is more regular."
Spoke type:  2.0/1.8/2.0 double-butted DT Swiss spokes were used for my wheel build. You have an option of spoke brand; two of the most well known players are DT Swiss and Wheelsmith, with the former being slightly more expensive and respected (obviously debatable) and the latter being less expensive and likely just fine. You also have an option of straight, double butted or triple butted spokes.
Image from brightspoke.com
The idea here is that different parts of the spokes are subject to different amounts of force at different portions of wheel rotation. Variable spoke diameter along the length of the spoke is used to compensate for the variable forces. Double butted and triple butted spokes provide this variability where variability is useful; straight spokes on the other hand are the same thickness throughout.  Spokes most commonly break at the spoke head (end connected to hub) and then at the rim (where spoke connects to hub via nipple), thus the increased thicknesses at the ends for the butted spokes. Similarly the thinner portion in the center of a butted spoke allows for increased elasticity which may decrease force at the spoke heads at critical moments of high impact. Finally having spokes that are thinner for a large section of the spoke results in slightly reduced weight.  Spoke price increases as the number of "butts" increases. I chose the double-butted spokes as a compromise between ideal strength and cost.
Valve: This one is pretty straightforward, you can choose between a Presta valve or Schrader valve setup. This only means that the size of the valve hole is larger (Schrader) or smaller (Presta) in the rim. Schraders tubes are available everywhere, Prestas are not. You can always use a Presta tube in a Schrader drilled hole but not the other way around. Schrader valve setup was chosen for my South American ride.  If you need to buy a Presta setup, you can very easily drill out the hole to make it the proper size for a Schrader valve.
Tires:  
If you chose a 26″ tire, the widths will also be measured in inches and not millimeters which is standard for the 700c.  There are many debates on this subject, but my understanding is that a wider tire offers a slight decrease in performance (speed) and a major increase in comfort.  The comfort comes from the lower PSI needed in wider tires and the larger sidewalls, the decrease in performance is also a result in the lower PSI. A wider tire outweighs any decrease in performance for a touring tire in my opinion.
I went with a 1.75″ Schwalbe Marathon Plus Tour tire.  I know people riding up to a 2.5″  tire, but 1.75″ was my "happy medium".  I would not go under 1.5″ (38mm on a 700c) for any touring that may be done on rough roads.
The Schwalbe Marathon Plus Tour is a BEAST.
"The new Flat-less tire. A heavy-duty trekking tread for asphalt, or offroad allows this versatile tire to always feel at home, whether in everyday use, or on long tours. The robust structure is an effective damage defense that is twinned with SmartGuard, the most effective puncture protection belt for bicycle tires." -Schwalbe website


I'm not sure about the flat-less claim, but that's what they are going for in the build. These tries are universally loved and were the best I found after much research.
Wiggle reviews (4.8/5.0)
Amazon reviews (4.8/5.0)
I've seen claims of folks getting 30K+ miles on a single set. The only real negative I found is that the durability comes at the cost of weight.
I also have a backup folding tire, which is a Schwalbe Supreme 1.6″.

Seat:
My decision was narrowed down to a Brooks Flyer and a Brooks B17.  This is a springed and non-springed version, respectively, of the same seat design.  I decided on the Brooks Flyer.  You sacrifice a bit of extra weight for a bit of extra comfort. The springs are very stiff, and they really don't come into play until you hit major bumps.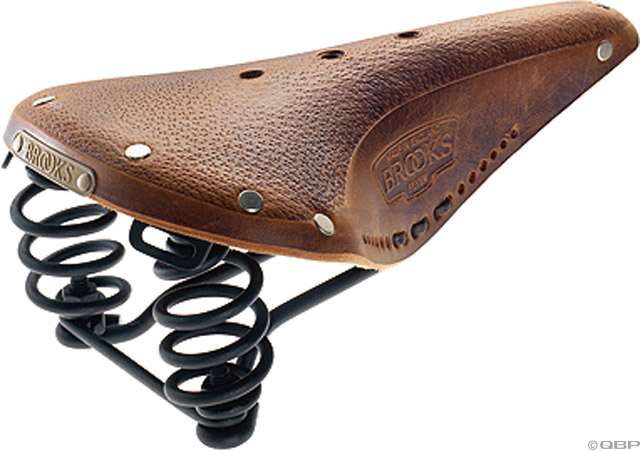 Steering and shifting:  
There are three common bar types to choose from: drop bars, straight bars, and trekking bars. I decided on the trekking bar setup after my research, but I'm not sure how much I am going to like them just yet. Riding for eight hours a day in the saddle with lots of weight typically results in an upright body position; the trekking bars are ideal for this.  It's also important to have many different hand positions as body parts get tired of being in the same position for hours on end. The trekking bars allow for three major hand positions, while the drop bars allow for two, and the straight bars only allow for one.
I also added Ergon biocork grips.  While people seem to really like them for comfort, they did limit my options for shifters.  I could not fit thumbshifters, the brake setup, and the Ergons on the bars simultaneously.  My options were to go with rapid fire shifters or thumb shifters mounted on the brake assembly.  I decided on Rapid Fire LX 8 speed shifters (ST-M567) which incorporates the brake pull lever as well, which is setup as a long pull for cantilever brakes.
Headset:
I always try to get the best quality at the cheapest price. The Cane Creek 40 fit the bill. This is the same headset that comes stock on the LHT.
Crank, Chainrings, Cogs, and Gearing: 
Gearing is a function of the sizes of the chainring (connected to your cranks) and the cog (sitting on the hub on your rear wheel) your chain is currently sitting on.
For serious weighted touring, you want a gear ratio that is extremely low. As a general rule, you need something lower that 1:1, meaning that you should have a cog in the back that is larger than your smallest chainring in front. This is a minimum requirement. Calculating "gear inches"  is a good way to evaluate your gearing, which also takes into account the size of your wheels in addition to your cog and chainring sizes. Here is a link to a calculator for gear inches. Here is a link to a good discussion on the best gear inch range for touring. The bottom line of any gearing for touring discussion is that no one has ever been disappointed in having a gear that was too low, but many people have found that they wished they had something lower. Somewhere around 20 gear inches is acceptable for almost any climbing situation. A generalized rule of taking care of knee pain is to spin faster (referring to revolutions of the cranks) so that you don't have to hammer as hard (push so hard to move), the ultra low gears allow for this.
On the other end of spectrum, for the highest ratios, the only time these gears will be used are when you are barreling down a hill and you want to keep your legs going without "spinning out" (spinning your feet with no resistance from the chain). You may spin out of your road bike gearing on flat surfaces, but this isn't going to happen when you are carrying 50+ lbs.  Most suggest 100+ gear inches on the max end in order to avoid spinning out on a touring bike.
The stock Long Haul Trucker comes with a 20 to 111 gear inch range, which is a 26-36-48 (these numbers describe the number of teeth on a chainring or cog) in the front and a 11-32 in the back. My front chainrings are sizes 22-36-48 in the front and an 11-32 in the back.  This gives me a gear inch range of 17.6 to 111 which I am very happy with.  My cranks are 175mm Sugino, my chain rings are a mix of Sugino and Vuelta, and my rear cogs set is a Shimano hyperglide 8 speed.
Derailleurs:
I bought and am using a touring specific Shimano XT FD-M772 front derailleur. Considerations when choosing a front derailleur include compatibility with your shifters (mountains derailleurs with mountain shifters and road derailleurs with road shifters because of different "pull lengths"), maximum capacity (the difference between the largest and smallest chainring), max chain ring size (largest chain ring that derailleur can function on), and pull type (top pull or bottom pull, or both, chosen based on the routing of your cables inherent to your frame).
My XT mountain front derailleur matches my LX mountain shifters (check). My front shifter is able to handle a maximum chainring of 48, matching my largest chainring (check).  My front derailleur is a "dual-pull" derailleur capable of handling my bottom pull cable routing (check). Finding a front derailleur to "hold" the 22-48 range of my chainrings should require a derailleur with a capacity of 26 teeth. My derailleur only has a maximum of 22 teeth (no check); however, it is working just fine for my setup. The capacity is a limitation of the vertical travel of the chain, such that when the chain is on the smallest chainring in the front and smallest cog in the back (this is called cross-chaining and is never necessary), you may get rubbing on the bottom portion of the derailleur. Similarly there may be rubbing of the chain on top of the derailleur when the chain is on the largest chainring in the front and the largest cog in the back.  With my setup however, there is absolutely no rubbing on the top or the bottom, although it's extremely close (check).
My rear derailleur is a Shimano XT long cage. Be sure the derailleur can handle the maximum number of cogs, if you have 9 cogs, you need a nine speed rear derailleur, 10 cogs, a 10 speed derailleur, and so on. You also need to choose between a short cage, medium cage, and long cage derailleur based on the size of your largest necessary chain length and your shortest necessary chain length. When you are in the largest chainring, largest cog setup, the derailleur is maximally extended, and nearly being completely bypassed. Conversely, when you are in the smallest chainring, smallest cog setup, all of that extra slack must be taken up by your rear derailleur. The larger the range of your gearing, the larger the required derailleur. My setup requires a long cage derailleur, and it's still being pushed to the limit.
A basic formula for determining which cage length you should get is as follows:
Derailleur capacity needed = (Big ring – small ring) + (Big cog – small cog)
For my setup, this would be (48-22) + (32-11) = 47 .. My XT rear derailleur is supposed to have a capacity of 45T, but once again, I have gone over that limit. The derailleur is working flawlessly.
Chain: 
I bought a SRAM PC 890 8 speed chain which is a Middle/high end SRAM chain with a power link for easy connect and disconnect of the chain.  It's a chain..  Oh ya, the chain must match the number of rear cogs.. They usually come in a 6-7 speed, an 8 speed, and a 9-10-11 speed which are simply different chain width to match the horizontal space between cogs.
Racks: 
Good racks are not cheap and cheap racks are not good.  The major choice you have to make is Aluminum or Steel.  Aluminum racks are between $25-$75 while steel racks are between $90 – $150.  I have read about several aluminum racks snapping due to months/years of heavy load, but I have never read of a steel rack snapping.  Losing a rack somewhere in the backwoods of Peru might be a real pain in the butt.   I ended up buying Tubus racks; the rear rack is a Cargo, and the front rack is a Tara.












Panniers: 
Once again, we have a best quality for the cheapest price situation. Panniers are somewhat important, as long as they A.) Stay on your bike and B.) keep your stuff dry, I think you're good.
I decided on Ortlieb "City" Rollers.  If money wasn't an option, I would have gone for the Ortlieb classics, but I saved about $120 on the pair going with the city rollers. The only differences between the city rollers and the classics are that the city roll down top must attach to the side of the bag, while the classics clips connect to one another. This results in more functional room in the classics as compared to the cities.  Also the classics have a pocket on the inside to separate things, while the cities to not. Finally, the classics come with a strap to sling the panniers over your shoulders, and for the city rollers, they must be purchased separately. Overall, I am very happy with the cities however. I have a set up front and rear panniers.

Lighting:
200 + lumens are recommended for night riding where there are no external lights available to light your way.  I went with the USB rechargeable Cygolite 260 lumens and the USB rechargeable 2W Cygolite backlight. Of note, I attached my rear light to the back of my rear rack instead of my seatpost, as I will have a large bag that would obstruct any light originating from the seatpost.
Air Pump:
I bought a Topeak Turbo Morph G Mountain pump!  Amenities include an unfolding pump handle for good grip, a gauge, a fold out foot pedal to secure the pump to the ground while pumping, and a increased volume chamber to move air quickly.  All of these can be yours at the cost of 0.6 lbs and  $35… not bad.  Also it has killer reviews.
The Surly build cost me somewhere around $1200 for just the bike and components. An additional $450 or so was spent on racks, panniers, lighting, and the pump.  Although this is alot of money, I have created a beautiful, customized touring machine that will be with me for many many years.  It will save me in the cost of transportation 10 times over on the South American journey alone. I love her already, and when the time is right, I will name her.
Tools and extras:
17 piece multi-tool, Cassette removal tool, small crank puller, bottom bracket removal tool, 6 inch adjustable crescent, 1 spare tire, 3 spare tubes, lube, grease (bearings and bolts), bolts (for lost rack nuts).